CGN Canine Good Neighbour CKC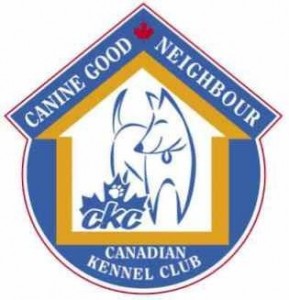 Hosting a Canine Good Neighbour Event Are you interested in having a Canine Good Neighbour test CGN at your event? If so please send a message to Suzanne.
Next Event:
Dog Lovers Days St Thomas July 11, 12
Kettle Creek Park 10am – 2
Helping Paws Rescue –
Elgin Feed 10am July 27
August 7,8,9 Aylmer Fair
Every hour from 11 – 4
Click Here For CGN Registration Form
We can hold a CGN test in almost any facility, for a fundraiser or pet awareness event. Our CGN test is held in the strictest accordance with CKC guidelines.
You can order or download copies of the Canine Good Neighbour Participant's handbook  at the Canadian Kennel Club website.
Entering Your Dog in a CGN Test Your dog does not need to be purebred. It does not need papers. You do not need to be a member of the CKC. There are no points. You will receive a certificate upon completion. Some insurance companies offer discounts. This is also a good test for Service Dogs.
You and Your Dog Must Must Complete these 12 Steps
Accepting A Friendly Stranger – without jumping up or being rude
Politely Accepts Petting – touch paws, ears, and nose
Appearance and Grooming (your dog is brushed)
Out For A Walk – loose leash
Walking Through A Crowd – ignores people
Sit/Down On Command and Stay In Place
Come When Called – without being distracted
Praise/Interaction – do you interact with your dog
Reaction To A Passing Dog – no growling or lunging
Reaction To Distractions – still listens to the owner
Supervised Isolation – mild stress is allowed but not continual acting out
Walking Through A Door/Gate – without rushing or pushing
The training program embraces both purebred and mixed-breed dogs and is fun, rewarding, and useful. It encourages owners to have a better and richer relationship with their dogs. The program also enhances community awareness of responsible dog ownership and the numerous benefits associated with dog ownership. Your dog is not tested for obedience or how well he performs the tasks. He is tested to see how well he listens. How you interact with your dog is important. Do you ignore it, or speak to it. The test is also looking for reactive (aggressive/nervous) problems. Will the dog bite?