Sport Scent Detection – K9Klub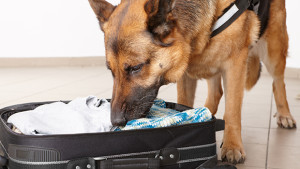 Part of K9Klub
Why monthly ongoing training? Because handlers love scent detection work as much as the dogs do. We work with dogs and handers to help them achieve all levels, and scents so they can trial and excel in any Canadian or US organization.
Scent detection is one of the few dog sports that lets your dog take the lead and do what comes naturally.
This is also the sport to be in if your dog is reactive or not a candidate for high level obedience training. Only one dog is 'in the area' at a time.
Level one scent is pure wintergreen.
Benefits of Nose Work:
Improve your relationship with your dog
Build your dog's confidence
Teach your dog to think
Develop your off leash work
Learn to read each other's cues
You and your dog will learn to work as a team
Even lame, blind, deaf dogs can participate
Great dog sport for people with mobility issues
What Do We Have Planned for 2017?
We will be hosting a workshop inviting a professional detection handler in the late spring, early summer.
We are in the process of hosting a trial in the fall
Continuous Start. Just drop by Friday night at 6 pm
Interested? Read More about Scent Detection as a Sport
FAQ
You do not need previous scent work
Your dog only needs basic obedience
disabled, blind, and deaf dogs are welcome
reactive dogs are welcome and can have a separate crating area
You need a toy the dog loves (Kong is best)
You may purchase equipment. The cost for competition training equipment is very reasonable (Under $50)
This membership does not include workshops, clinics, or trials.
Some trials require transport but are not mandatory
You are buying a month's access. The fee is not prorated for nights missed, or arriving late. This membership does not cover access when the Quonset is not reserved for scent club.
REGISTRATION: Registration is Pay as you go. Just buy a K9Klub Card when you come the first night.