Puppy Life Skills 2: Comfort, Calm, Confidence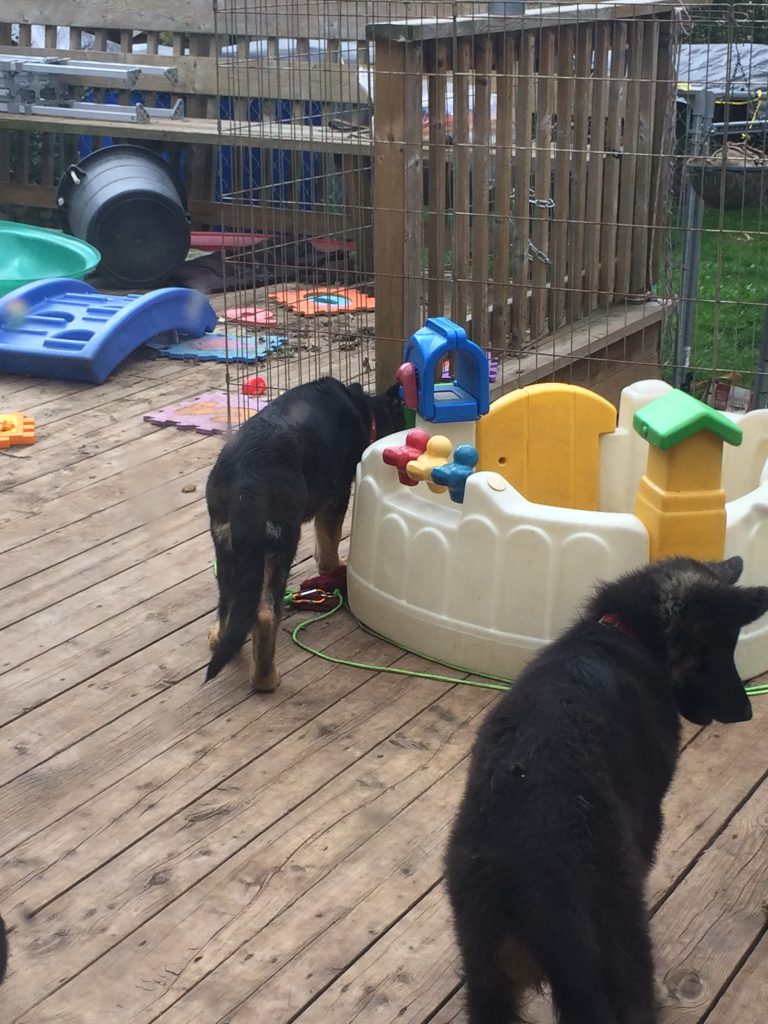 This article focuses on socialization. What is puppy socialization? And, what it is not. There are three development stages. Each one requires different skills and tasks taught the puppy.
Socializing 8 – 12 Weeks – Comfort
The most important things to consider when socializing is that:
a) A puppy should never be forced to encounter everything or everyone – especially in your home.
b) A puppy should be allowed to investigate 'everything' it wants to. If that means that you didn't get to socialize because the puppy wanted to sniff, okay.
c) Socializing should never be longer than 30 minutes. It should end as soon as the puppy starts to act hyper, stressed, biting/barking/lunging, or hides close to your legs.
d) Socializing is fun for the puppy and include lots of treats. If it is not fun and the puppy is not happy then it is not socializing, it is traumatizing.
e) You should play with your puppy when socializing, or it is not building 'happy' emotions.
f) Socializing is not the time to train. Socializing is about the puppy and making the puppy happy.
At this stage you should comfort your puppy. Do not overwhelm it. Make your puppy earn it's freedom. The whole house is too overwhelming. Instead, let the puppy have access to the kitchen. When it can behave well in the kitchen, then let it have access to the other rooms unsupervised.
When you take puppies into other rooms then stay engaged with them. When you become busy, or distracted, then return the puppy to the safe room. The most important thing your puppy needs to learn is that you can be calm. This will help teach your puppy to be calm.
It is very important that you don't lose your temper or punish a puppy at this stage. If your puppy is being bad, or you are impatient, then put the puppy away with a chew toy. Going into the crate should always be something good – even if it is a punishment.
If your puppy becomes upset, then take a few minutes and comfort the puppy. You only have a few weeks to 'imprint' trust, social tolerance, and a happy attitude.
Remember that your puppy didn't ask to be brought into our homes. We often pick breeds for house pets that were never bred for a sedentary lifestyle, where they spend hours a day doing nothing. It is our responsibility to give our puppy this chance to be comforted, and develop at its own pace.
But it is also our responsibility to teach it good behaviors. One of the biggest mistakes is to give a puppy a 'childhood.' Puppies are not children. They don't learn to be good by having fun. When a puppy plays we are either imprinting Urban behaviors over the puppy's natural instinct, or the puppy is learning to fight, hunt, and survive in the wild.
Puppy Life Skills 2: Confidence
Francis, D, J. Diorio, et al.  Nongenomic Transmission Across Generations of Maternal Behavior and Stress Responses in the Rat. Science, New Series, Vol. 286, No. 5442 (Nov. 5, 1999), pp. 1155-1158.
Murphree, OD, RA Dykman, JE Peters. Genetically-determined abnormal behavior in dogs: Results of behavioral tests. Conditional Reflex,  July–September 1967, Volume 2, Issue 3, pp 199-205.
Pierantoni, L, Albertini M, Pirrone F. Prevalence of owner-reported behaviours in dogs separated from the litter at two different ages.  Veterinary Record 2011;169:18 468