Help For Your Reactive Rover
Look, look at me, or redirects are a common training tool when people are working with nervous or aggressive dogs. But remember that you need to build foundation behaviors. If the dog doesn't trust you, it won't leave the 'scary thing' to look at you. Teach this behavior to your dog, but if it doesn't work within 2 weeks start working on the 'fun' and play part of your relationship.
Remember – Dog behavior is all about emotions. If your dog is happy then it will work.
If you would like to download this picture then 'double' click on it. You will see a web page with only the picture on it. Now 'right click' that picture, and 'save as'.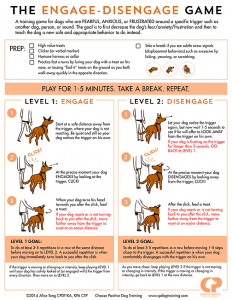 If you need help with your dog check out our current reactive rover classes: Click Here
If you would like to have us email exercises, tips and advice then please join our email tutorials.